Pilot praises RAF Lakenheath plane spotter for saving his life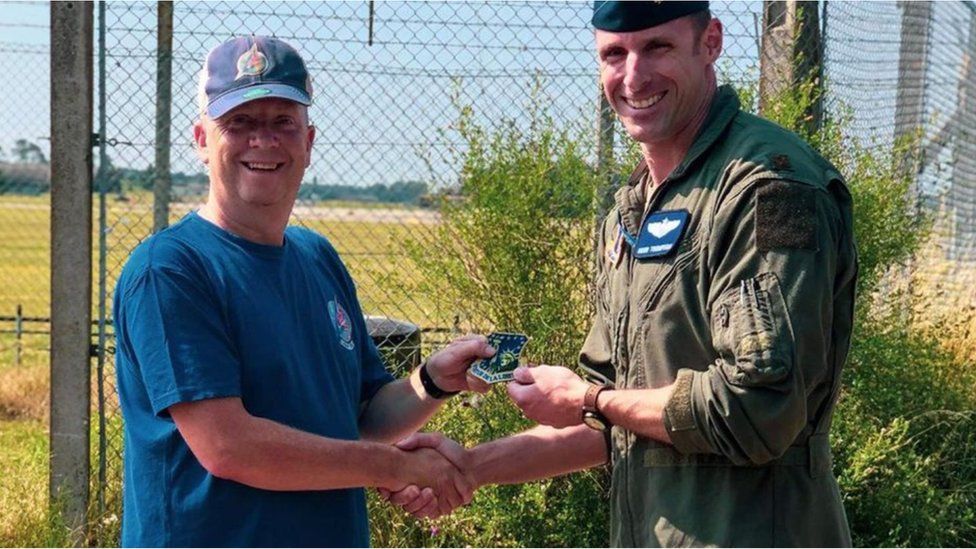 A plane spotter who alerted an airbase to a jet "malfunction" averted a potential disaster, its pilot said.
Ian Simpson called RAF Lakenheath after seeing flames and sparks come out of Maj Grant Thompson's F-15E Strike Eagle on take-off.
Photographer Mr Simpson regularly watches jets take off from the United States Air Force base in Suffolk.
The pilot said Mr Simpson's quick actions had "100%" saved his life, adding: "His initiative was awesome."
Mr Simpson said he called the base's switch board and was put through to flight control, who alerted the pilot.
"It was quite shocking really. You do see flames called an afterburner, which they use to take off," Mr Simpson said.
"But that is normally turned off as soon as they leave the runway."
Maj Grant Thompson said he had no idea there was an issue with the jet.
"From our perspective, it was a normal take off," he said.
It was only when he was told to contact the base that he was informed "a member of the local population had noticed something abnormal on our take-off, which was potentially a nozzle malfunction".
"One of our wingmen looked us over and they noticed there was something wrong with our right engine, a nozzle didn't look quite right, at which point we brought the aircraft back safely," said Maj Thompson.
The pair met on Wednesday where the pilot was able to thank him in person for averting a potential disaster and "100% saving his life".