Teenage Mutant Ninja Turtles models raise money for NHS charities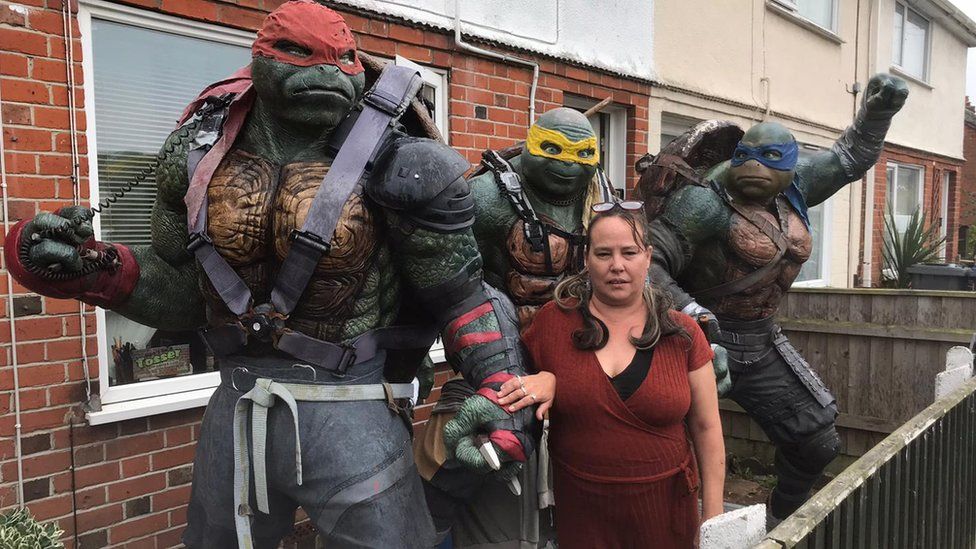 Giant models of three Teenage Mutant Ninja Turtles have been putting "smiles" on people's faces while raising money for NHS charities.
The 7ft-tall (2.13m) "heroes in a half-shell" stand in Tara Chorlton's front garden in Walton, near Felixstowe, Suffolk.
She said her husband Simon "rescued" them from Drusillas Park, East Sussex, which was getting rid of them.
She said she planned to auction off the turtles - plus a fourth model of their companion Donatello that could not fit in her garden - to raise more money for the two causes.
Meanwhile, she said the giant replicas of Raphael, Michelangelo and Leonardo from the comics, TV shows and movies were attracting "a lot" of attention - and charity donations - in Cage Lane.
The Teenage Mutant Ninja Turtles were created by Kevin Eastman and Peter Laird and first appeared in a comic book in 1984
In the story, four average turtles are transformed into human-size creatures after being exposed to some chemicals and are then trained to become ninjas under the guidance of their master, a rat called Splinter
"Turtlemania" swept the globe in the late 1980s, as the televised cartoon of the heroes' crimefighting antics won fans worldwide
In the UK, the programme lost "Ninja" from its title in favour of "Hero" due to concern over violence in children's television
Eastman and Lairds' creation resulted in three feature films in the 1990s, with a reboot seeing a further two movies in 2014 and 2016
Partners in Kryme's song Turtle Power from the original movie was a worldwide hit in 1990 and is considered the UK's first hip hop number one
The 50-year-old grandmother-of-three said: "Lots of people have been taking photos of them and have been taking selfies, even the binmen.
"The children love them and know all of their names. It's really nice to see the kids have a smile on their faces."
Related Internet Links
The BBC is not responsible for the content of external sites.