Hope Church in Ipswich opens in derelict Odeon cinema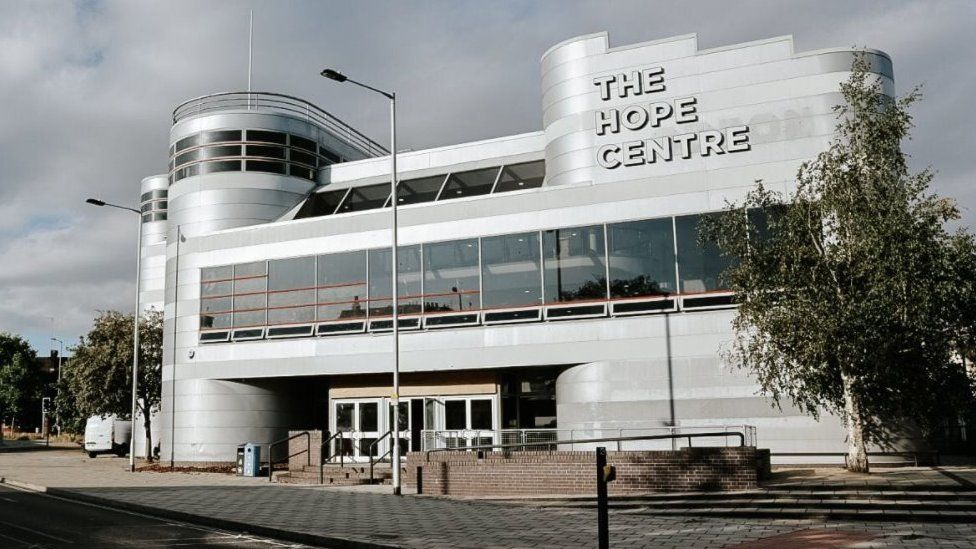 A cinema that closed its doors to film fans 16 years ago has reopened them to Christian worshippers having been transformed into a church.
The art-deco style former Odeon in Ipswich was constructed in 1991 but shut in 2005.
Hope Church acquired planning permission for its new centre in 2018.
It finally opened the Hope Centre on Sunday, which includes a large area for church services and there are plans for a cafe, expected to open in January.
There was even some popcorn in an old dispenser, said lead pastor Tom Scrivens.
The cinema had 29,900 sq ft (2,870 sq m) of floor space, allowing for a large area for worship, but work to turn it into a church centre took longer than anticipated because of the coronavirus pandemic.
The decision to move into the Odeon building, on St Margaret's Street next to the Regent Theatre, was based mainly on a lack of space, Mr Scrivens said.
"We've outgrown our current building [the church used to be based in Fore Hamlet]... and we wanted a place where our family - as a church - could grow," he added.
Speaking ahead of Sunday's first service, Mr Scrivens said everyone was "really, really excited... at the culmination of this journey".
"We really have a big heart to serve our town - we're doing lots of things within the community but we know that in a more central venue like the former Odeon, there are going to be a lot more people that we can help and serve," Mr Scrivens said.
"We wanted to make it good. It's a building that matters to a lot of people."
The relocation project cost about £2m.
Mr Scrivens said funding came from grants, loans and the sale of the former building, but "mainly from the giving of our church congregation - which is staggering, really".
"I wouldn't say that we have any particularly rich individuals - it's been a team effort," he added.
An official public launch of the new church centre will be on 17 October.
Related Internet Links
The BBC is not responsible for the content of external sites.