Ed Sheeran donates guitar to help Framlingham school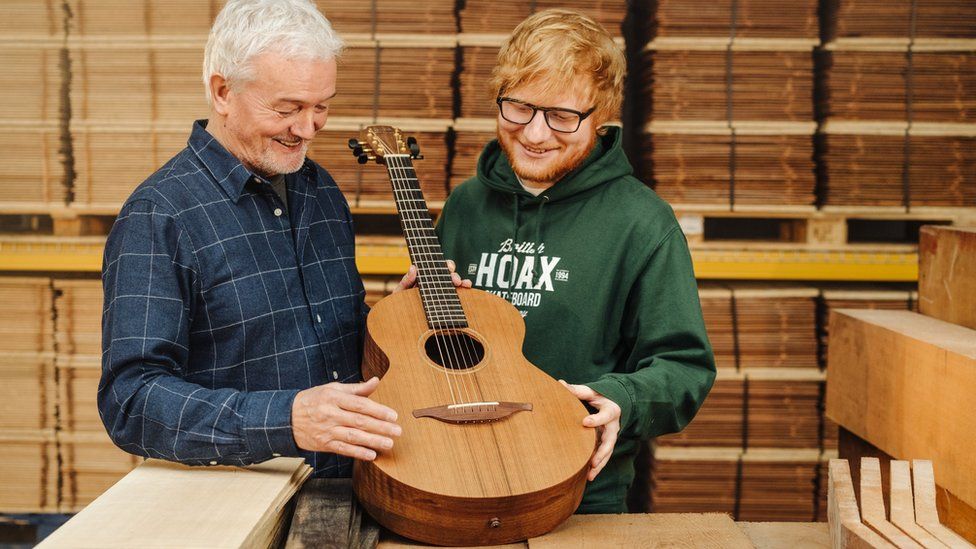 Ed Sheeran has donated a one-of-a-kind prototype guitar, made for his album Equals, as a charity raffle prize.
The 30-year-old pop star worked with Northern Ireland-based guitar maker George Lowden to create the signature instrument to mark the latest record.
Funds raised from the raffle will go towards a music pod and disabled access facilities at a primary school in his hometown of Framlingham, Suffolk.
Sheeran pledged to personalise the guitar for the winner.
In a video message, the singer-songwriter said: "There is not another guitar like this.
"This is the guitar that gets sent to me to check that all the other guitars are all right - it says prototype in it.
"To win this, it's a £5 raffle which goes to charity. It's going to build a music centre at a primary school near me, which I'm really excited about."
Mr Lowden has been Sheeran's guitar maker for the past six years.
The prototype, from which 3,000 final versions have been made, is crafted from walnut and spruce trees that have fallen naturally.
An Equals inlay is in maple, inset into the ebony fingerboard.
There is a butterfly etched into the heel and the album artwork is included within the internal label.
Sheeran has also donated three signed Ipswich Town Football Club 2021-22 home shirts for three runners-up in the raffle.
Funds from the raffle, run by Suffolk-based charity GeeWizz, will go to Sir Robert Hitcham's CEVA School.
GeeWizz founder Gina Long said: "We are so incredibly grateful to Ed for this wonderful donation. It is a true reflection of his generosity towards his local community.
"The prototype guitar is a hugely collectible piece of music memorabilia - a chance for someone to own a piece of history, and the legacy from the guitar will benefit so many children for years to come".
Related Internet Links
The BBC is not responsible for the content of external sites.