Reclaim the Night Ipswich: March calls for end to gender-based violence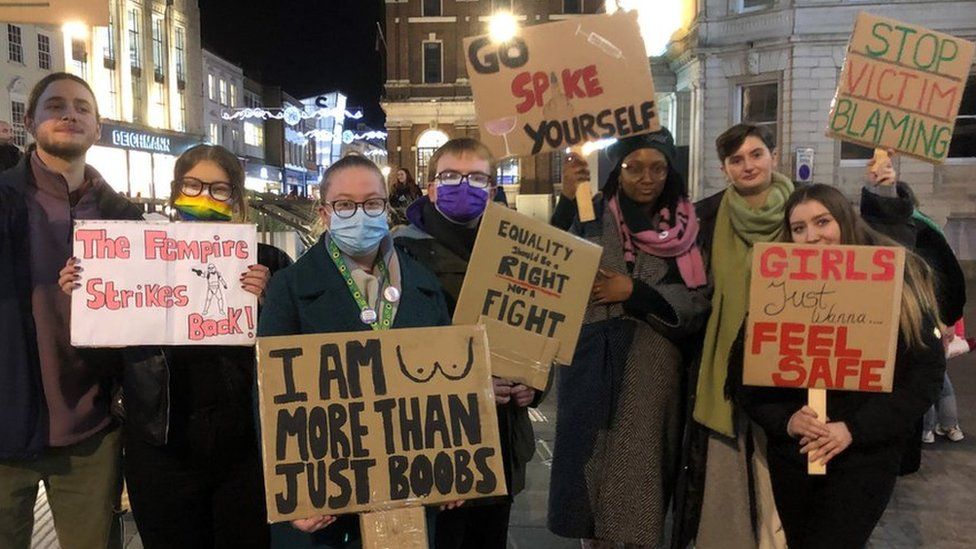 About 100 people have marched through a town calling for an end to gender-based violence against women and girls.
Reclaim the Night, organised by Suffolk Rape Crisis, took place in Ipswich on Thursday evening.
The march was part of 16 days of activism which included various events, talks and workshops.
Attendees said the march was a protest against victim blaming and an opportunity to start conversations about consent and other topics.
Jen Kiernan, who took part, said: "Women tend to get blamed for being attacked because of what they're wearing, or because they stayed out too late or had a few drinks and they've done absolutely nothing wrong.
"Only the people that have attacked them have done something wrong and done something illegal."
Ms Kiernan said women had the right to live their "lawful life" and should not feel like they should be home at a certain time or wear certain things.
"All victim blaming does it provide an umbrella for the perpetrators," said Becki Blackwood.
"Despite it being 2021, it still is not safe for women out there."
Luke Runnacles said he attended the march "to try and make these streets safer for women and everyone in general".
Mr Runnacles said it was important for parents to have conversations with their children that could sometimes be "awkward" in order to make the area safer for people.
"Just because it's awkward doesn't mean you have to shy away from it," he said.
Alex Thompson said consent and boundaries should be taught to people of all ages.
"No person should fear sexual violence of any kind," she said,
"It's not about what we wear, it's about society that does not respect our bodies.
"We should be safe to walk at night and if we survive our stories should be told, heard and taken seriously."
Ms Thompson said she no longer goes out at night alone because "it doesn't feel safe".
"That is just being a woman at night," she said.
"This is an issue that keeps coming up, it's not going away, we do really need to take it seriously."
Related Internet Links
The BBC is not responsible for the content of external sites.