Felixstowe and Harwich: Freeport East gets final go-ahead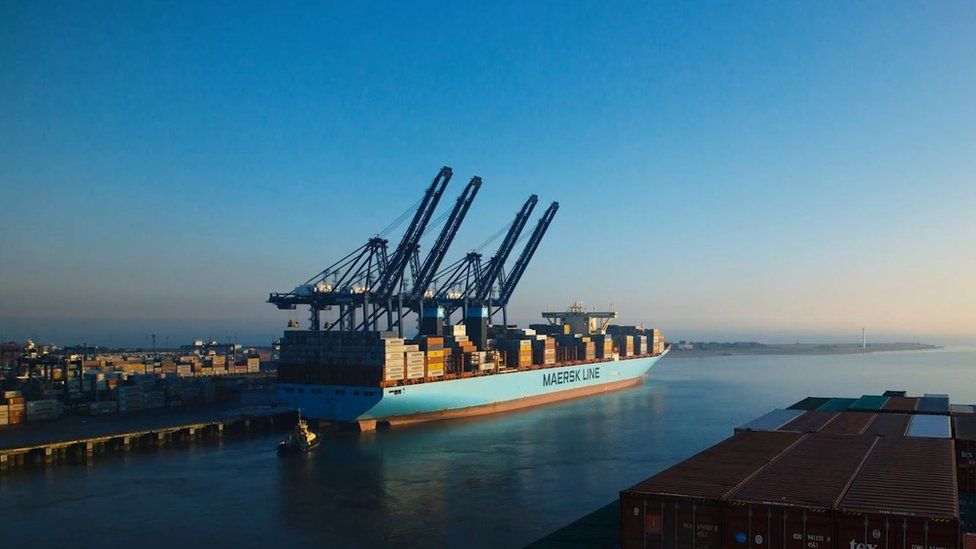 The new low tax, low regulation zone Freeport East is due to start operating at the end of the month, the BBC can reveal.
Plans to unify the Port of Felixstowe and Harwich International Port were put forward in March.
Goods that arrive in freeports are exempt from tariffs unless they are moved to elsewhere in the UK.
Some businesses have welcomed the news, but others fear the Freeports will just see firms relocate from other areas.
This week the government used a statutory instrument to allow Freeport East to start operating on 30 December, BBC Politics East has learned.
The new low tax zone will take in the Port of Felixstowe and Harwich International, as well as a new business park planned for Stowmarket, called Gateway 14 - said to be the largest business park in East Anglia.
Freeport East hopes to create up to 13,500 jobs for the area over 10 years, and an estimated additional 1.3 million tonnes of international trade volume and £66.4m in extra goods and services.
Stuart Ager, managing director of Century Logistics, based near Bury St Edmunds, said the firm was considering opening a warehouse within the Freeport East area as it would cut down on red tape and extra costs.
"It would make us a much more attractive proposition to new customers," he said.
"It will certainly give advantages to us as a logistics provider and for our customers from a cost perspective. It's a different world," he said.
Phil Dennis, of Savills, is marketing Gateway 14 - which will provide up to 2.36 million sq ft (219,251 sq m) of warehouse space - equivalent to about 30 football pitches.
He told BBC Politics East: "Occupiers who come here will be able to benefit from unique savings of business rates relief for about five years, stamp duty relief on land purchases."
Sir Bernard Jenkin, Conservative MP for Harwich and North Essex MP, believes there will be benefits from freeports.
"The location of a lot of new economic activity associated with a freeport will be very good for jobs in Harwich which is otherwise quite a deprived part of the UK," he said.
But the Office for Budget Responsibility (OBR) believes the main effect of freeports will be to move economic activity from elsewhere rather than generate growth.  
Jade Uko, development manager for the Federation of Small Businesses in Essex, said there were concerns that over time companies in neighbouring areas would lose out to firms in the Freeport East area.
"I think the government needs to look at mitigation in order to prevent that and look at other areas of Essex which have applied for levelling up funding but been denied that," she said.
"We need investment all over Essex, and not just in a particular area that risks draining business and skills."
Prof Catherine Barnard, a legal expert at the University of Cambridge who has written a report on freeports, said: "If you are living in Felixstowe you can say freeports are very good news, but not if you are living in Great Yarmouth.
"Freeports operate a bit like a vacuum cleaner and they suck in business to freeports because of the tax advantages and customs advantages. If you're outside the area you'll lose out."
The chairman of the Freeport East project, George Kieffer, does not agree.
"We don't want companies relocating from, say, Chelmsford or Braintree to the freeport. We want to attract new business into the area, creating new jobs," he said.
"The OBR and academics are wrong. Certainly some of the businesses I'm talking too are not thinking of relocating from anywhere else."
Treasury minister and South East Cambridgeshire MP Lucy Frazer told the House of Commons last week: "Freeports are an important part of the government's levelling up agenda. We see them as central to our goal of sparking regeneration, creating jobs, and inspiring innovation throughout the country."
Politics East airs on BBC One in the East on Sunday, 12 December at 10:00 GMT and can be viewed on the BBC iPlayer afterwards.
Related Internet Links
The BBC is not responsible for the content of external sites.