Ruthie Henshall: Care home visits a 'postcode lottery'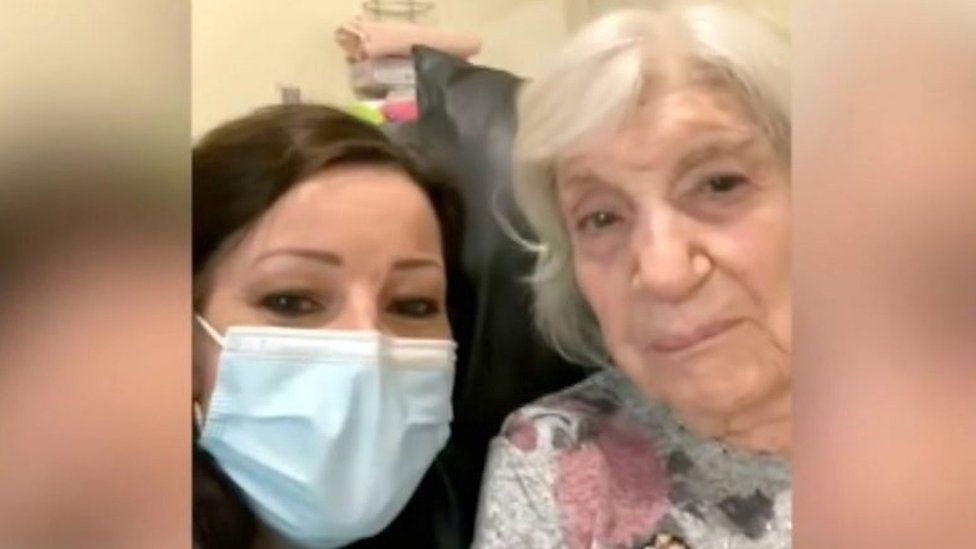 Care home residents are experiencing a "postcode lottery" when it comes to visitors, West End star Ruthie Henshall has said.
Ms Henshall, from Ipswich, was her mother Gloria's essential carer. She died in a care home in May.
She has been campaigning for a new law that would allow one named person to be allowed to visit each care home resident at all times.
A government spokesman said guidance would be reviewed in line with advice.
Ms Henshall is asking the government to pass Gloria's law, named after her mother.
This would protect the right of an essential care giver to continue visiting their loved one even during a coronavirus outbreak or while new government restrictions were in place.
Currently it is up to each care home to decide if and when visitors are allowed.
"I'm concerned at what's happening, it's a postcode lottery," she said.
"We want to change it to Gloria's law so that every single person in care is assigned an essential care giver, so they will never be lonely again.
"For all of our communities life has opened up and the homes haven't opened up," she added.
"Now they've all been triple-vaccinated, we can take a lateral flow before we go in and wear full PPE. They want to see their family."
At St John's House care home in Norwich they are keen to avoid residents and families being separated for another Christmas.
Dr Sanjay Kaushal, chairman of Castlemeadow Care which runs the home said: "Our main goal is that our doors will remain open, we've listened to families, we've listened to residents and what they really missed, it was that contact.
"We're still allowing visitors to come, we've got procedures in place and it's been transformational," he said.
The Department of Health and Social Care said safety of staff and residents in care homes had been its priority throughout the pandemic.
A spokesman said: "We appreciate how important care and companionship from visitors is and the positive difference this makes to the health and wellbeing of care home residents."
He added they would continue to take scientific advice before changing care home visiting guidance.