Model of Queen Elizabeth II statue raises funds for Newmarket museum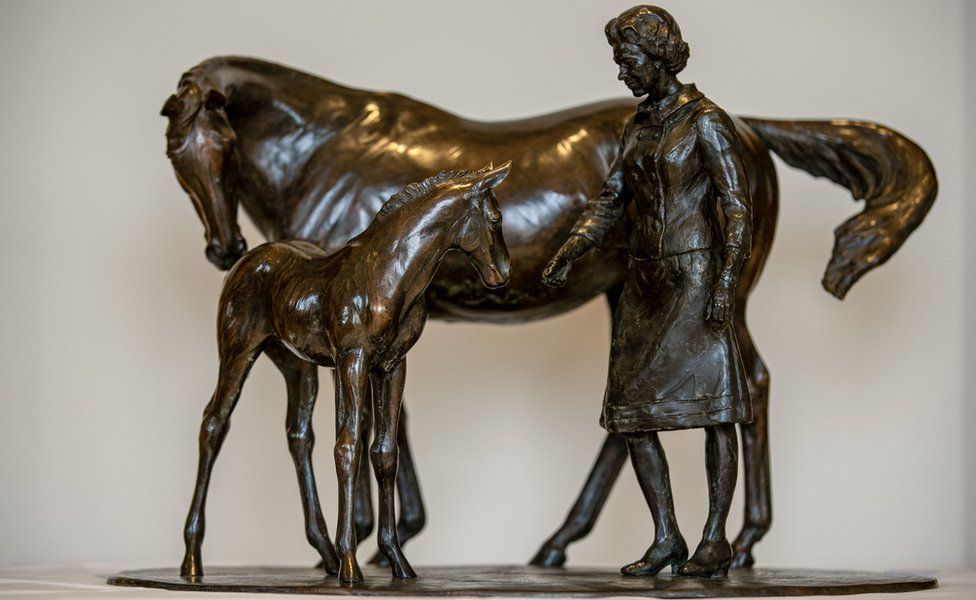 A model of a bronze statue that honours the late Queen Elizabeth II's love of horses has sold for 165,000 guineas (£173,250) at auction.
There were 12 maquettes made of the statue of the Queen with a mare and a foal that sits at Newmarket Racecourse.
The first one made was given to Her Majesty and the last was sold to a Hong Kong-based buyer on Monday, who said he had "enormous respect" for the Queen.
Proceeds would go to Newmarket's National Horse Racing Museum.
The maquette, a small model that is used as the basis for a sculpture, was bought by Marc Chan, who said he had "enormous respect for the Queen and her devotion and love of horse racing and as patron of the museum".
He said he had seen and admired the museum's maquette on display in the gallery and also another one in private ownership while visiting the Suffolk town and "was very taken" with the bronze.
Anne-Marie Hogan, director of the National Horse Racing Museum in Newmarket, expressed "enormous thanks" to Mr Chan for the "huge gesture of support and confidence" in the museum.
"This is a very heart-warming story that even in death the Queen is still one of our greatest supporters," she said.
The maquette, which measures 60cm by 45cm by 40cm (24in by 18in by 16in), had been estimated to sell for £80,000.
Ms Hogan said the other 10 maquettes also had an international following, with one in Australia, another in New Zealand, two in the United States and one in India.
It depicts her when she was in her 50s and it was unveiled as part of the opening of the £15m National Heritage Centre for Horseracing and Sporting Art in 2016.
Related Internet Links
The BBC is not responsible for the content of external sites.