Sewage kills hundreds of trout at Surrey fish farm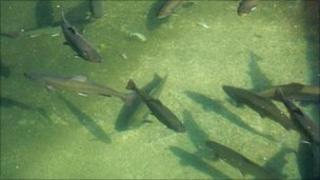 Hundreds of trout were killed at a Surrey fish farm after sewage leaked into a river, the Environment Agency said.
Between 700 and 800 fish died at Tillingbourne Trout Farm in Abinger Hammer when the pollution entered the River Tillingbourne earlier this week.
Officers started an investigation on Tuesday after a member of the public reported seeing the sewage.
The Environment Agency said it believed it had found the source of the problem.
'Water samples'
James Liney, from the Environment Agency, said: "This is a serious incident which is obviously devastating for the owner of the Tillingbourne Trout Farm where we estimate 700 to 800 trout have been killed.
"Environment officers were on site on Tuesday collecting evidence and sampling, and we have staff taking further samples from the river and doing some ecological monitoring today [Wednesday].
"We don't believe that the pollution incident has had any serious effect on the River Tillingbourne but has sadly had a major impact on the trout farm."