Crackdown on mistreatment of imported cattle to Surrey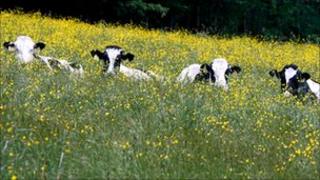 Vehicles carrying livestock in Surrey are being monitored following a reported increase in the number of imported cattle being mistreated.
Animal health inspectors found cows in need of milking, rest and feeding after a truck transporting them was stopped in Leatherhead earlier this month.
Surrey County Council said bovine tuberculosis had led to a shortage of cows in the UK.
It said there had been an increase in transporters not abiding by the rules.
Animal health inspectors are currently working with the Vehicle and Operator Services Agency (VOSA) to monitor vehicles carrying livestock around the county.
Kevin Chesson, of Surrey County Council Trading Standards, said: "Farmers across the country are finding it hard to find disease free animals to replace those that have been slaughtered so are extending their search to Europe.
"While this is not illegal some transporters are not sticking to the rules about resting, feeding, watering and milking of animals."