Public inquiry considers Ashtead Tesco store plan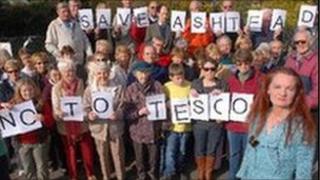 A seven-day public inquiry has begun into plans to build a new Tesco store in a village in Surrey.
The supermarket giant wants to build a large store and housing on the site of a former petrol station in Ashtead.
Mole Valley District Council has turned down two separate plans, but the supermarket appealed.
Residents and traders opposed to the plan fear the store would be out of keeping with the village atmosphere and potentially harm local businesses.
The Save Ashtead Village Environment campaign raised more than £25,000 in just 10 days to pay for a legal team to fight the appeal by Tesco and represent opponents at the inquiry.
Tesco spokesman Michael Kissman said the site for the store had been derelict for some time and it was clear through public consultation that people wanted to see the site developed.
"Quite a lot of people who live in the area go to Epsom [and] Leatherhead to do their shopping, so providing a new Tesco store will bring more shoppers to the area, with the creation of a free car park as well, more housing for the area and generally more trade on the high street from our development," he said.
"It will create more jobs for the area, more shopping choice and obviously bring good value products and our range to the town," Mr Kissman added.
But Roger Palmer, who runs Palmer's Deli and intends to speak at the inquiry on behalf of traders who are against the plans, said it was "real fallacy" that the new store would bring more customers to the high street.
"I actually believe that a smaller community store... will deliver more people to Ashtead village into the high street because what's actually required is a larger top-up store," he said.
The public inquiry is being held in the main council chamber at Mole Valley District Council's offices in Dorking.
The inspector will consider the two appeals by Tesco which were lodged after their first proposal was refused by the council in March 2009, and their second was refused in February.