Polling changes follow Weybridge voting problems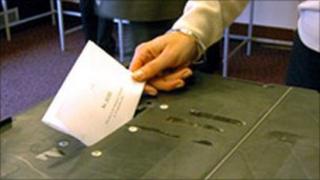 Events that led to more than 100 people being turned away from ballot boxes in Surrey on 6 May were "unforeseen but unacceptable", a report has found.
Scores of people were unable to vote in the General Election in Weybridge as the 2200 BST deadline passed.
Elmbridge Borough Council's review into the situation said a high turnout, a late surge of voters and processing problems caused the congestion.
The turnout in Runnymede and Weybridge was 66.4% - up 8% on 2005.
'Back up staff'
The authorities review stated: "The late voter surge, coupled with the 10pm deadline for the issuing of ballot papers, meant that some of those turning out to vote after 9pm were not able to vote.
"This situation was unforeseen but the consequences were unacceptable.
"The post-event analysis shows that Electoral Commission guidelines on staffing levels were followed and exceeded."
It recommended a number of improvements including the creation of a team of back up staff to carry out polling station inspections on election day to deal with issues, better use of IT and more contact numbers for poll clerks.
A spokeswoman for Elmbridge Council said: "During May 2010 the council carried out a BEAM (Business Efficiency Achieves More) review of the Elections service.
"The overall aim of the review was to ensure that future elections are run as efficiently as possible and the customer needs are met."
Other polling stations across the UK also turned voters away at 2200 BST on 6 May, while others stayed open to allow votes to be cast.