Pair jailed over builder's attack death in Guildford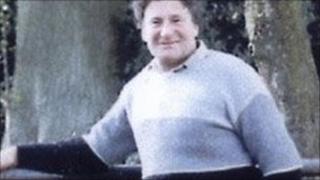 Two men have been jailed after pleading guilty to attacking and killing a 62-year-old builder in a Surrey street.
Stephen Puttock, 30, and Barry Stretch, 36, were each jailed for seven and a half years after admitting manslaughter at an earlier hearing at the Old Bailey.
Keith Nicholson died of a heart attack the day after the unprovoked attack in September 2000.
He was punched and kicked unconscious in a street in Guildford.
Mr Nicholson was left lying on the pavement with head and facial injuries and died in hospital from a heart attack caused by the stress of the incident.
Puttock and Stretch attacked him after being thrown out of a bar in the town on 17 September.
'Violent and unprovoked'
After the sentencing, Det Insp Jo Sidaway said: "Keith Nicholson was an entirely innocent man out for an evening walk when he was subjected to a violent and unprovoked attack by Puttock and Stretch.
"They left their victim lying in a pool of blood on the pavement with no regard whatsoever for the consequences of their actions.
"The investigation into Mr Nicholson's death has spanned the last decade and two trials and proved to be a challenging case for the officers involved."
Puttock and Stretch were jailed for life in February 2007 for the murder of Mr Nicholson but their convictions were quashed on appeal.
Lord Justice Hooper had ruled both men's convictions were unsafe and directed that a fresh trial should be held.
The retrial ended in a hung jury and the pair pleaded guilty to manslaughter at the start of a second retrial.
Mr Nicholson, of South Road, Guildford, was attacked outside Ardmore House in Manor Road as he walked alone late at night.
After the pair entered guilty pleas, Det Sgt Simon Corke said: "This was a violent and unprovoked attack on an entirely innocent 62-year-old man who happened to be in the wrong place at the wrong time."