Staines air crash memorial bench in park vandalised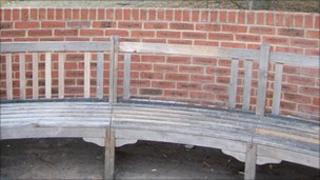 A memorial bench to commemorate the deaths of 118 people in the 1972 Staines air crash has been vandalised.
Spelthorne Borough Council said the "latest act of wanton destruction" on the wooden bench in Moormede Park followed others in previous years.
It said it was now considering replacing it with a metal version which would be more resilient.
Surrey Police said the back panels of the bench were damaged, which would cost several hundred pounds to repair.
'Terrible tragedy'
The damage took place between 2300 BST on 16 July and the early hours of 17 July.
The Mayor of Spelthorne, Councillor John O'Hara, said: "It is little short of shameful that this kind of activity should go on at all, let alone in a place like this.
"It is important that those affected by this terrible incident can have a proper place to go and remember in their own way."
A council spokesman said the bench was placed in the park to allow relatives and friends to have a place to contemplate the disaster, which happened when a British European Airways plane bound for Brussels crashed in a field within three minutes of taking off from Heathrow.