Thieves in Limpsfield target farmer's quad bike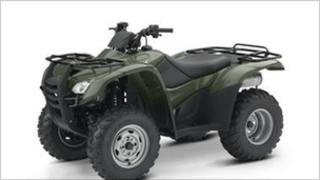 Farmers in Surrey are being urged to be vigilant after a quad bike was stolen.
Police said the vehicle was taken from a workshop on a farm in Merle Common, Limpsfield, between 2030 BST on 19 July and 0800 BST on 20 July.
The green Honda 420 ES quad bike, which has a '57 plate and about 700km on the clock, is described as distinctive.
Officers said it had attachments for a slug pellet machine and rubbings from a trailer to the rear.
Anyone with any information, or who is offered a nearly new Honda quad bike at a reduced price, is asked to contact police.