Vase found in Surrey attic fetches £105,000 at auction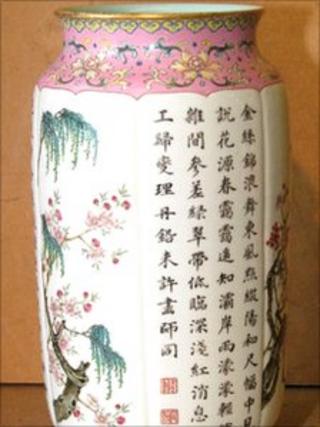 A Chinese vase stored away by an elderly widow in her attic has sold for £105,000 - surprising auctioneers and top London antique dealers.
Dorking-based auctioneers P F Windibank found the vase in the woman's attic after she asked them to look at her late husband's antique collection.
Simon Windibank, from the Surrey auction room, gave it an estimate sale price of £2,000 to £3,000.
He said it went quickly to £8,000, but two bidders in Asia then took over.
Mr Windibank said: "There were a lot of people in the room. Bidding in the room started at £500 and went very quickly to £8,000.
"Then everybody stopped but two people in Hong Kong and Taiwan took over on the phones and took it from £8,000 to £105,000, which amazed everybody."
He said: "The lady had a lot of items. Her husband was an electrician, and he used to buy things up in London and just go through the antique shops in the 1950s and 1960s.
"He picked up this vase - the one good thing about it was that it was completely perfect."
Mr Windibank said the woman, who has not been identified, had no idea of the value of the 11.4in (29cm) 19th Century pink and white thin-necked vase, decorated with branch, flower and leaf patterns with inscriptions and scrolls.
He said: "She thought these things were in their hundreds.
"A lot of people have hidden gems but something in the region of £100,000 is very unusual."
He said: "I believed it would fetch in the £2,000 or £3,000 estimate, so getting to £8,000 was very good anyway.
"People in the room were top London dealers and they all believed [it would fetch] around £8,000."
And he added: "What people believe is there's a lot of money in China - that seems to be where everything's going at the moment."
He said: "It's lovely. It [the money] has gone to the right place.
"She's going to use the money to help her grandchildren, one is just starting university and one needs help with schooling, so it's all going to help them."