Arsonists burn Guildford Cathedral grounds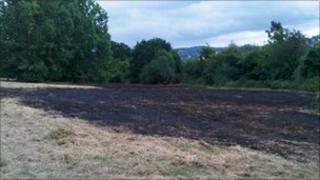 Arsonists who started a grass fire in the grounds of Guildford Cathedral could have endangered the lives of those living nearby, police have said.
The arsonists poured petrol on the grass, then set fire to it between 1900 BST and 2000 BST on Sunday.
Surrey Fire and Rescue Service said that if they had arrived a few minutes later, the fire could easily have spread to nearby homes.
"This was a despicable act," said Det Con James West.
"It could very easily have endangered the lives of those living in the area.
"The fire service said the fire could have spread to the nearby hedges and then onto the adjacent houses."
Police are anxious to speak to anyone who was in the area at the time who may have seen the arsonists either before or after the incident.