Girl, 13, bitten by fox in garden in Long Ditton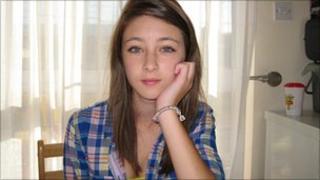 A 13-year-old girl had to be treated in hospital after a fox bit her foot while she was camping in her back garden in Surrey.
Bethany Blackburn was asleep in a tent with two friends in the garden in Long Ditton when the attack happened at about midnight on Sunday.
The fox woke the girls when it ripped a hole into the tent, pushed its face in and grabbed Bethany's foot.
It was scared off when the girls started screaming, her mother said.
One of Bethany's friends fainted from the shock.
"My daughter called me and I went out straight away to get them in as they were too scared to leave the tent," said her mother, Melanie Blackburn.
"When I opened the door I saw the fox run off."
'Firearm needed'
Mrs Blackburn took Melanie to hospital, where the wound was dressed and she was given antibiotics.
"My biggest concern is that we reported to the council that we had foxes coming in our garden in broad daylight and they said there was nothing they could do," she said.
"Now this has happened, and they are still saying the same.
"There are two or three foxes which come right up to the back door.
"It wasn't until this happened that I realised how dangerous they are."
Elmbridge Borough Council said it was very sorry but extremely surprised to hear that a resident had been bitten by a fox.
"The council does not provide a pest control service to deal with foxes, which would require the use of specialised equipment including a firearm.
"We leave the provision of such a specialised pest control service to companies which cover a wider geographical area than Elmbridge and who thus deal with fox eradication more frequently.
"Councils do not have a duty to provide a fox control service and it is not correct that, where a fox attacks a human, the council must put the animal to sleep.
"It would, in any case, be impossible to be certain which fox in the area was responsible.
"It is very rare for a human to be bitten by a fox but anyone who is should seek medical assistance at their local accident and emergency department."