Al Fayed loses damages in fight over Oxted oil field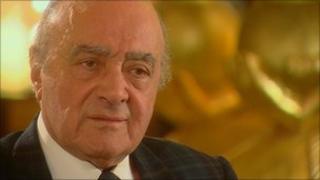 Mohamed Al Fayed's battle for compensation after a company drilled for oil under his Surrey estate has been thrown out by the Supreme Court.
The multi-millionaire originally won a share of the oil proceeds at the High Court, but was later told by appeal judges he could only claim damages.
Five Justices of the Supreme Court have now ruled against compensation.
They agreed the company had trespassed but said the only compensation could be for "any loss of amenity value".
'Share of spoils'
At the Supreme Court, Lord Brown said Mr Al Fayed's company Bocardo had argued that in order to determine a fair price, it was necessary to find out what a fair share of the spoils for the landowner would be.
But he said it would be "most odd" if Parliament had intended in the Petroleum Production Act of 1934 to take subterranean petrol from a landowner with no compensation, and at the same time intend a landowner to be entitled to "a fair share of the spoils".
He said the only compensation contemplated was for "any loss of amenity value".
Lord Brown said landowners had no right at all over the oil or "in the chances of finding oil under the soil".
Trespass findings
The former owner of Harrods went to the High Court in 2008 to claim a stake in the income from the oil field.
High Court judge Mr Justice Peter Smith found for Mr Al Fayed after hearing that Star Energy, the company drilling for oil, did not tell Mr Al Fayed what was happening beneath his Barrow Green Court and Barrow Green Farm.
He awarded Mr Al Fayed 9% of the proceeds from the field since 2000, and the same percentage of future income.
But Star Energy appealed against the ruling. Appeal judges then ruled Mr Al Fayed was not entitled to a share of the income, but could be awarded compensation of £1,000 for past and future trespass.
Drilled diagonally
Mr Al Fayed then took his claim to the Supreme Court, and Star Energy appealed over findings they had trespassed.
On Wednesday, five Justices of the Supreme Court unanimously upheld the finding of trespass but, by a majority, threw out the damages claim.
Production began in 1990 and by the end of 2007 the company had extracted oil worth £10m.
It was not until Mr Al Fayed saw records held at the British Geological Survey in 2006 that he realised the pipelines were beneath his land.
Star Energy owns three wells at its Palmers Wood oil field drilled diagonally under Mr Al Fayed's Oxted estate.