Computers taken in daytime thefts from Guildford homes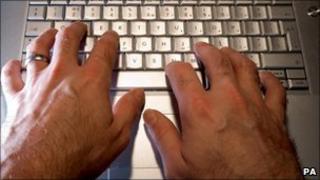 Laptops and other electrical equipment worth thousands of pounds have been stolen in a series of daytime burglaries in the Guildford area.
Surrey Police said the most recent theft happened on Wednesday when burglars got into a house in Wood Street and stole £3,000 of equipment.
Computers were among 13 items, worth a total of £4,200, stolen at a house in Stoughton Road on 21 July.
Police want to hear from anyone being offered cheap computer equipment.
Burglars got in through a back door at the house in Wood Street and smashed a window pane to enter the property in Stoughton Road.
"I want to make residents aware that there are a number of daytime burglaries happening across the borough and that they should be ensuring that they lock all windows and doors in the current warm spell," said Det Insp Karen Hughes.
She also appealed for help in finding out where the stolen computers and electrical goods were being sold from.
"Hopefully by sharing such information there might be a vital clue which could help officers bring these offenders to justice," she said.