World Cup sees rise in Surrey domestic violence reports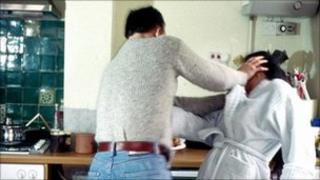 Thirty seven domestic abuse incidents were logged in Surrey on the day England drew with Algeria in the World Cup - 61% higher than a week before.
Surrey County Council released the figures amid calls for victims to contact support services.
The authority said domestic abuse incidents rose by at least 16% during all England's other World Cup games.
Cabinet member for community safety, Councillor Kay Hammond, said it was vital people knew they were not alone.
Surrey Police made more officers available during the World Cup, she said.
Ms Hammond added: "England fans are all too aware that poor World Cup displays and early exits can hurt pride but the shameful fact is they can be much more painful for the victims of domestic abuse.
"Victims lose their self-esteem and confidence, becoming isolated and even more vulnerable.
"It is vital that whatever month, week or day it is they know they're not alone and can call on emotional and practical support."
Det Supt Ray Marley said: "Big international football tournaments and drinking are known to be linked to domestic abuse but domestic abuse occurs throughout Surrey all through the year.
"That is why it is so important to continue to ensure that anyone who needs help in freeing themselves from a violent relationship knows specialist services are available."
He said Surrey had four victim support services across the county and a 24-hour helpline.