Frensham Common fire 'came close to homes'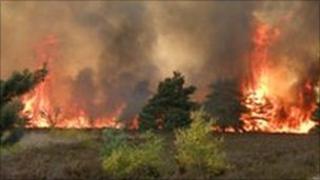 A fire that ravaged heathland in Surrey came close to spreading to nearby properties, fire crews have said.
The heathland fire on Frensham Common near Farnham was tackled by more than 90 firefighters on 12 July.
Surrey Fire and Rescue Service has now said fire crews saved homes worth an estimated £6m from being destroyed.
It said properties were minutes from being evacuated as the fire, fuelled by strong winds, spread across 35 hectares (86 acres) of common land.
The cause of the fire is still being investigated.
Fire break
Alan Clark, from Surrey Fire and Rescue Service said: "The flames, fanned by westerly winds, were moving towards cottages at Lowicks Road.
"But then the wind suddenly changed direction, bringing properties along the A287 into direct line of the fire, as well as hundreds more hectares of wildlife habitats."
He said emergency teams were preparing to evacuate properties bordering the common, but crews brought the fire under control.
A man with a bulldozer helped crews stop the fire by making a fire break from Frensham Pond to Little Pond.
Firefighters, rangers and volunteers monitored the area for five days to make sure hotspots did not reignite.