Men showing 'unprecedented' interest in childcare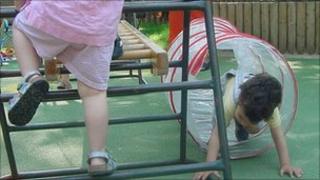 A campaign to encourage men to work in childcare has received unprecedented levels of interest, Surrey County Council has said.
The council has set up a website which has had more than 3,000 visitors and led to nearly 100 inquiries.
Information sessions have also been held for 37 men. Surrey County Council said it was the first time men had attended such an event in the county.
Organisers want to address a gender imbalance in childcare staff.
'Male role models'
Councillor Mary Angell, the council's cabinet member for children and families, said: "As far as we know, this campaign is the only one of its kind in the UK.
"We are keen to ensure Surrey's children have positive male role models from an early age, and working with children is both a challenging and rewarding career choice."
Cheryl Marie, recruitment officer in early years and childcare, said there had been hundreds of calls, emails and visits to both the website and roadshows in Woking and Camberley.
She said a further 47 men had asked for information.
Currently, about 3.5% of Surrey's paid and voluntary childcare staff are men, which is higher than the national average of 2%.