Epsom Hospital opens £1m orthopaedic operating theatre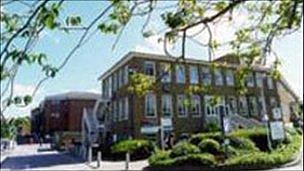 A £1m operating theatre to treat patients with hip, knee, spine and shoulder conditions has opened at Epsom Hospital in Surrey.
The facility includes a computerised arm that can move around the patient and project an image of a joint on to a screen, helping surgeons to navigate.
The theatre at the Elective Orthopaedic Centre (EOC) is part of a £9.6m upgrade of surgery and outpatient facilities.
It is the fifth theatre at the centre, run by Epsom and St Helier NHS.
Medical director and surgeon Gwynne Howell said: "Speaking as a surgeon, this theatre is an absolute asset to us and will really help us to keep on giving our patients the very best of care.
"Having a hip or knee replacement is a life-changing event and can have an incredibly positive impact on someone's quality of life.
"This theatre and the technology it contains will further improve the care we give our patients.
"It will help to make sure our patients continue to have successful operations, followed by swift and speedy recoveries."
Related Internet Links
The BBC is not responsible for the content of external sites.