Hitman guilty of Surrey housewife murder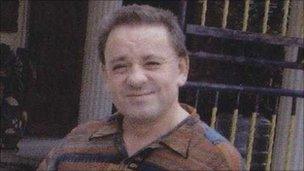 A hitman who flew to the UK from Thailand to kill a housewife in Surrey has been found guilty of murder.
Paul Cryne, 62, had denied flying home to carry out the killing on behalf of Sharon Birchwood's ex-husband for a £30,000 fee to pay off his debts.
Disabled Mrs Birchwood, 52, of Ashtead, was found strangled and "trussed up" with parcel tape.
Cryne, who was extradited from Thailand to face trial at the Old Bailey, is due to be sentenced on Wednesday.
The victim's husband, Graham Birchwood, 54, who stood to gain a £475,000 "pot of gold" from her death, was jailed for life in June 2009 and told he would serve at least 32 years after being convicted of murder at Croydon Crown Court.
The court heard Mrs Birchwood, who walked with a stick, was found with her ankles and wrists tightly bound together.
She had been bound and gagged, and her wrists had been pulled up to her face.
Prosecuting, Mark Dennis QC said electrical cord had been repeatedly wrapped around her head and a small metal handle had been used to tighten the cord, acting as a tourniquet.
After the guilty verdict was returned, Judge Jeremy Roberts said of Cryne: "He may be right in thinking that he'll die in prison."
The court heard the British expatriate, a swimming world record holder who still holds a Guinness underwater record, left few clues for detectives when he carried out the "execution" of the frail woman.
He flew in from Thailand at the end of October 2007, two months before the murder, and stayed with Birchwood at his mother's house in Banstead.
Two days before the killing, he gave the impression he was going to stay with friends in the West Country, but stayed in Surrey.
But he murdered Mrs Birchwood after she returned from a shopping trip in Guildford and was at Heathrow within three hours, awaiting a flight back to Thailand.
DNA traces on Mrs Birchwood's hand and on the parcel tape did not match any on the police database.
But Cryne left DNA and fingerprints on a cup at the house in Banstead.
The fingerprints matched police records from 1972 when Cryne was jailed for seven years for holding his girlfriend hostage.
Detectives traced him to Thailand's expat community and extradited him to face trial.
The court heard Birchwood had needed the money tied up in his ex-wife's bungalow and life insurance policy to pay off debts of £150,000 following a string of business failures in Thailand.
Cryne, a former bodyguard who was originally from Manchester and later lived in Devon, was said to be "proud of being a street fighter" and boasted he could incapacitate a man with a single blow.
He moved to the Thai resort of Pattaya in the 1990s after receiving a £500,000 payout following an accident in which he was hit by a boat while diving off the Maldives.
But by 2007, he had run out of money and had debts of £11,000.
After the hearing, Det Ch Insp Maria Woodall said Mrs Birchwood lived a "quiet, harmless, ordinary lifestyle, burdened by ill health and living in rather poor conditions with little social life and no known enemies".
She said: "She was totally betrayed by the greed of the man she had married and been devoted to for 30 years."
She added: "Birchwood made the callous decision that his ex-wife must die and then set about a ruthless plot which he hoped would distance himself from this evil crime.
"He involved Cryne as part of this devious plan and that his plan failed is a tribute to the officers."
She said Mrs Birchwood had been divorced some 20 years ago, but this was not disclosed to many people and she kept up the pretence to her family and friends.
Witnesses told police that Mrs Birchwood remained devoted to her ex-husband through the years, and he had continued to visit the property every week.
Related Internet Links
The BBC is not responsible for the content of external sites.