Surrey Air Ambulance wants night flights from Dunsfold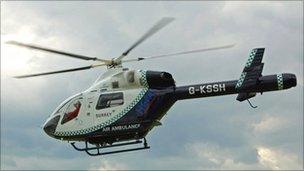 The Surrey Air Ambulance could be allowed to fly at night from its base if a planning application is approved.
The emergency helicopter, which serves Surrey and Sussex, is currently limited to daytime and early evening flights.
Dunsfold Park, where the helicopter is based, has applied to Waverley Borough Council to lift the restriction.
Some residents are unhappy at the proposal, saying it will disturb their sleep, but the Air Ambulance said the service would save lives.
Flight times are currently limited to between 0730 BST and 1930 BST from October to March and between 0730 BST and 2030 BST from April to September.
Surrey Air Ambulance spokeswoman Jill Playle said: "We are able to offer a very good service during the daytime but we're unable to fly at night - and serious illness and injury happens 24 hours a day.
"People need to perhaps take into account that currently during the daytime we fly an average of two to three flights a day so the helicopter is not continually taking off and it's unlikely to do so at night time so it wouldn't be constant noise - it would be occasional noise."
Resident Peter Barker said: "There are a few god-given rights and one of those is the right to have an undisturbed night's sleep and if this application goes ahead, it won't be just a small area, it will be a large area where the sleep of people will be completely destroyed."
The Air Ambulance said the proposal was in the very early stages and any changes to flying times were unlikely to take effect in the next three to five years.
Related Internet Links
The BBC is not responsible for the content of external sites.