Soil tested at Farnham's former gasworks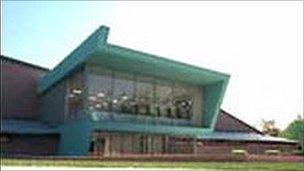 Soil sampling to check for possible contamination at a former gasworks in Surrey has shown there are "no major issues", Waverley council has said.
The alert followed redevelopment work at Farnham Leisure Centre, when underground deposits from a former gasworks were found in the area.
Deposits of tarry sludge, wood, slate and rope were typical of sites of former gasworks, the council said.
The Environment Agency will now decide whether more investigation is needed.
A statement issued by Waverley Borough Council said: "A soil sampling exercise carried out at a former Farnham gasworks has shown there are no major issues at the site."
Councillor Bryn Morgan, environment spokesman, added: "Throughout this process we have always stressed that there is no known immediate risk to health and, following the extensive soil sampling, this still remains the case across the whole site.
"In partnership with experts in their field, we are determined to have an extensive assessment of what effect the former gasworks has had on the land. We have completed part of this successfully, largely thanks to the support of the community."
"We need this support to continue as we enter another phase. If there is ever any evidence to suggest there is a risk to health, Waverley will take appropriate action immediately.
"The health and safety of the community has been, and will remain, our number one priority throughout this work."
Tests at the site were carried out in December and then between February and March to pinpoint whether contamination could be found and what risks it posed.
A report on the tests has now been passed to the Environment Agency.
Feedback from the agency is expected at the end of September and Waverley council said it would take all necessary action.
The council also said it expected to be able to publish the findings after the Environment Agency evaluation.
The soil sampling was carried out in Weybank Close and the surrounding areas including Farnham Leisure Centre, Riverside Court, Wey Valley Care Homes, Mike Hawthorn Drive car park and the meadow in December last year.
Related Internet Links
The BBC is not responsible for the content of external sites.