Spanish tiles shed light on Tudor palace in Woking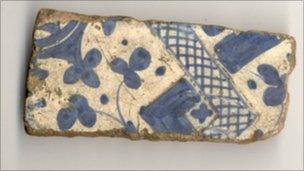 Fragments of rare Spanish tiles found during excavations at a Tudor palace in Surrey have shed light on how it was transformed into a home fit for a king.
The blue and white Valencian tiles, dating from the late 15th and early 16th Centuries, were found by divers in the river adjoining Woking Palace.
The tiles were laid while the manor house on the site was extended.
It was later used by Henry VII and Henry VIII, who visited the palace with several of his wives.
Similar tiles have been found in Guildford, Billericay and Dartford but Woking has the largest collection in Britain.
"They are very important finds," said Rob Poulton of Surrey County Archaeological Unit.
"We are now able to see that during the late 15th Century a range of new brick-built buildings were constructed as part of an enlargement and transformation of the palace."
Mr Poulton said that the remains of the palace were now on a rural site next to the River Wey but in the Tudor period there would have been many buildings.
"We know from the historical records that it was a large, palatial complex capable of accommodating the king and his very large household," he said.
"Henry VIII very often carried out a progress in which he went from one of his houses to the other.
"Woking would have been one of the stops in the summer for what was essentially a hunting party.
"It is hard to overestimate just how popular hunting was with the Tudor kings and their medieval forebears."
Related Internet Links
The BBC is not responsible for the content of external sites.