Women's Rugby World Cup 'could boost sport take-up'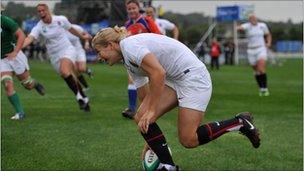 Health experts are hoping that the Women's Rugby World Cup, being held in Surrey, will encourage more people to get active.
Victoria Heald, public health development worker at NHS Surrey, said more women may take up rugby as a result of the tournament.
But she said there could also be a wider "festival effect" and it could be the inspiration many people needed.
The event started on Friday at Guildford's Surrey Sports Park.
Ms Heald said: "Whenever there's a big sporting event - and especially when it's happening on the doorstep - you tend to get what we call the 'festival effect'.
"With the world's best rugby players competing in the county, there may well be more interest amongst women in taking up rugby.
"But the 'festival effect' is much wider than that and for many people it may be just the inspiration they need to do more sport or get active in another way."
She urged people who want to find out about local sporting activities to visit the Change4Life website for information on healthy lifestyles.
Related Internet Links
The BBC is not responsible for the content of external sites.