Epsom council shelves BMX track after government cuts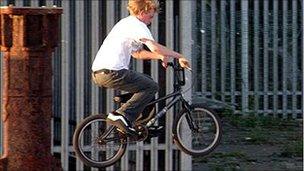 Government cuts have led to a planned BMX facility in Surrey being shelved, Epsom & Ewell Borough Council has said.
This month, Education Secretary Michael Gove froze grants to 132 councils for building and running up to 1,300 community play schemes across England.
Councillor Clive Woodbridge said it was disappointing that the much-wanted BMX facility at Hook Road Arena would not go ahead.
The government said it had inherited unrealistic spending commitments.
Mr Woodbridge, chairman of the leisure committee, said: "We are extremely disappointed that this much-wanted facility for our young people cannot go ahead.
"A lot of time and hard work had gone into the proposal and we were delighted when it was announced we would receive the funding.
"The council does not have the money to move the project forward and so the idea must be shelved until an alternative funding source can be found."
He said Epsom council had received funding under the previous government's Playbuilder scheme.
But he said the Department of Education had withdrawn funding from all Playbuilder projects in year two of the programme that had not yet committed to a contractual agreement.
This month, a Department for Education spokesman said play was important for children and families, but investment had to be realistic and affordable.
In his letter to the heads of children's services, Mr Gove named play as a key area affected by his department's contribution to reducing the public deficit.
Related Internet Links
The BBC is not responsible for the content of external sites.