Seven-year-old maths whizz-kid gains A* in GCSE exam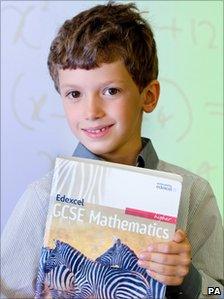 A seven-year-old boy has gained an A* in his maths GCSE at less than half the age most youngsters take the exam.
Oscar Selby, from Epsom, in Surrey, is believed to be the youngest to score the top grade in a GCSE exam.
The Stamford Green Primary School pupil spent four hours every Saturday for nine months studying for the exam with Hertfordshire-based Ryde Teaching.
"It was hard work but I did enjoy it," he said, adding that the exam was easier than normal ones he had done.
"I answered every single question," Oscar said.
The youngster, whose mother is an actuary and father is a computer software engineer, said he hoped to concentrate on science next although he may go back for further maths studies later.
Natasha Regan, 39, said her son had "always been very interested in things and very bright".
"He has always liked big numbers - if you talked to him about 1,340,000, for example, he would get very excited."
She added that Oscar had always been very focused, and had very good concentration.
He raised £3,500 in sponsorship for taking the GCSE, which will go to the Cystic Fibrosis Trust because a girl in his class has the disease.
Related Internet Links
The BBC is not responsible for the content of external sites.