Surrey waste site plan to be submitted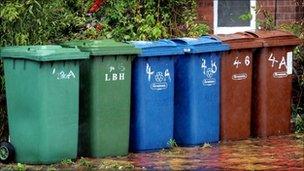 Plans to expand facilities at a waste recycling centre in Surrey are to be submitted to the county council.
Surrey Waste Management, the council's contractor, intends to develop the site at Charlton Lane, Shepperton.
The facility would feature a gasification chamber, which heats waste to produce gas for energy.
The firm's manager, John Scanlan, said it would provide an alternative to sending waste for landfill or incineration.
He said: "We are all very keen to maximise how much we can recycle and compost.
"However, there will be some materials that can't be recycled and need to be dealt with in a different way."
If the plans are approved, about 60,000 tonnes of household waste would be dealt with at the site every year.
Mr Scanlan said about 4% of the waste material produced by the gasification process was considered hazardous.
This material would be taken away to landfill sites and disposed of safely, he added.
A planning application is due to be submitted to Surrey County Council in October.
Related Internet Links
The BBC is not responsible for the content of external sites.