Old photos aid Brookwood Cemetery thefts investigation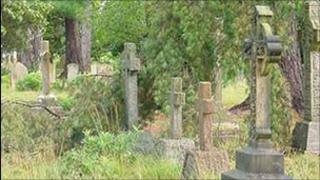 Old photographic slides of memorials stolen from a cemetery in Surrey are being used to try to recover the items.
In recent years stone memorials, World War I crosses and bronze busts have vanished from Brookwood, in Woking.
One of the most notable memorials to be stolen was the bust of political activist Charles Bradlaugh, who was buried there after his death in 1891.
The photographs have been donated by the Cemetery Society in the hope they can be of help to police.
Brookwood Cemetery is one of the largest of its kind in Europe, and has burial grounds for multi-cultural faiths.
John Clarke, historical consultant and member of the Cemetery Society, said security had been improved.