Woking cycle plan 'puts disabled at risk'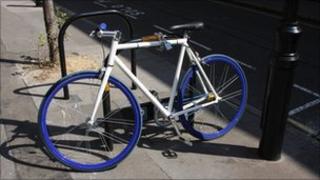 A plan to allow cyclists to use pedestrian areas in a Surrey town has been criticised by campaigners representing disabled people.
The campaigners from nine disabled groups across the county have said the plan will make Woking town centre a "no-go" area for disabled people.
Protesters are set to lobby Woking councillors at a meeting on Thursday.
Woking council said the "shared space" had operated on a trial basis without any incidents.
Disabled 'feeling vulnerable'
A joint statement issued by Surrey Disabled People's Partnership, representing all nine organisations, said people used a shared space by making eye contact to establish who goes first.
It said the system "obviously" put blind and partially-sighted people in danger, and posed a risk to disabled and elderly people.
A spokeswoman for Woking council said the plan was different to other towns' shared spaces which included motorists, because this was only for cyclists and pedestrians.
She said people from the disabled community had said they felt vulnerable, but the plans would be discussed at the meeting on Thursday.
Paul Fishwick, Cycle Woking project manager, said the scheme had been running for 17 months on an experimental basis and there had been no reported incidents.
He said a temporary order allowing the scheme only lasted for 18 months, and the decision now being made was whether to make the scheme permanent.
The groups opposing the shared space scheme are Action for Carers Surrey; Age Concern Surrey; Surrey Independent Living Council; Surrey Association for Visual Impairment; Surrey Coalition of Disabled People; Surrey Link; Surrey Access Forum; Social Information on Disability; and the Alzheimer's Society.