Walkers to examine Hindhead's £371m tunnel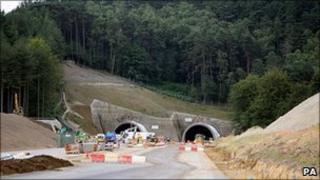 People will be able to walk through one of the country's longest underground road tunnels before it opens to traffic
Hindhead Together said people would be able to walk the 1.2 miles (1.9km) of the A3 tunnel on an open day on 14 May next year.
Thousands of cars and lorries are expected to use the £371m tunnel on the London to Portsmouth route each day.
The steering group said the number of people interested in the tunnel open day had "far exceeded expectations".
Organisers had considered including cyclists and runners in the tunnel on the day, but the event has been restricted to walkers because of the large numbers of people expected.
'Huge' event
Haslemere Town Mayor Melanie Odell, chairwoman of the Hindhead Together sub-committee, said: "It is disappointing that we have been unable to accommodate a variety of events for other users, however ultimately this format will maximise the opportunity to meet the large demand."
She said it would be a "huge" community event, with park and rides operating from many points in the area so that as many people as possible could attend.
The open day has been planned with the Highways Agency, Balfour Beatty and Surrey Police.
The dual carriageway tunnel is set to relieve traffic bottlenecks in the area and keep vehicles away from the Devil's Punchbowl.
The site of special scientific interest is also a special protection area for wild birds conservation.
The tunnel is expected to keep 30,000 vehicles a day from the heathland site.