Trees felled in £40m Hoe Valley flood defence scheme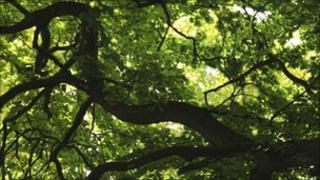 Work to fell trees is under way in Woking as part of a £40m flood alleviation scheme in Surrey.
The work is the second phase of tree felling in the Hoe Valley, to allow flood defence measures to be built.
Woking council said steps have been taken to preserve as many trees as possible.
But it said the majority of the trees should be removed because the building work was likely to damage the roots.
Councillor Ric Sharp said: "We appreciate that, to members of the public, the work may seem rather drastic but it is essential for the creation of the flood alleviation measures.
"I would like to reassure local people that an extensive scheme of planting and landscaping is planned for later on in the Hoe Valley Scheme."
Park improvements
Trees are being felled in Westfield Avenue and around the main entrance to Woking Park over the next few weeks.
The flood defence measures being built include flood bunds, bridges, flood walls and compensation ponds.
The first phase of tree removal took place at the beginning of the year, but halted during spring and summer to avoid disturbing nesting birds.
The Hoe Valley scheme is set to protect nearly 200 properties from flooding along with a further 60 gardens.