Survivor in North Downs walk for Surrey Air Ambulance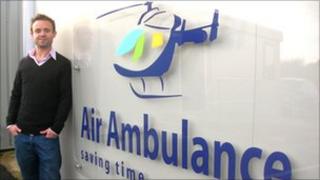 A man who survived a serious car accident is aiming to raise £10,000 for the Surrey Air Ambulance from his annual walk along the North Downs.
Office manager Darren Cooper, 27, from Woking, was driving to work in March 2008 when his car veered across the road and hit a tree on the other side.
He suffered a fractured skull and eye socket and was airlifted to King's College Hospital in London.
His walk next month will be the third in aid of the air ambulance charity.
Mr Cooper, who made a full recovery from the accident, raised £8,000 last year and £7,500 in the first year.
He said: "I believe that without the help of this brilliant service I would not have been cared for in the same way as quickly as I was, and by the right specialists.
"My injuries, very serious as they were, could also have been a lot worse. In fact I could well not be alive to tell this tale.
"I'm humbled by the charity and that is why I'm choosing to raise funds for it."
His mother Diane, brother Philip, and a horse rider who was also rescued by the Surrey Air Ambulance following a fall last month, will be among the walkers on 2 October.
There will also be a flyover from the lifesaving crew of the Dunsfold-based MD902 helicopter, which needs £1.7m a year to stay airborne.