Surrey court closure plan branded a 'false economy'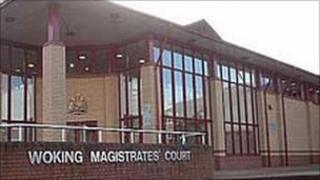 Plans to close two courts will have a detrimental affect on justice and not save money, it has been claimed.
Woking Magistrates' Court and Epsom County Court are among 103 magistrates' courts, and 54 county courts, earmarked for closure in England and Wales.
Chairman of the Surrey Magistrates Association Mark Ashley-Hacker said the plans "do not make sense at all".
The Ministry of Justice (MoJ) said courts needed to reflect changes in population or transportation.
'False economy'
Mr Ashley-Hacker said: "Surrey is one of the most populated counties in the country. It's got some of the best performing courts in the country.
"It means the courts are already being used to a very high level."
He added: "Woking is a modern facility it's been maintained well, it is all up to date.
"The work from Woking would have to go to Staines in Guildford and those courts would need to be upgraded significantly with a lot extra money spent on those facilities to make them compatible with justice in the 21st century."
Woking solicitor Wyn Cummings said the facilities at the town's magistrates meant victims did not have to risk coming into close contact with defendants.
She added: "Woking Magistrates court has been designated as the number one court by Surrey County Council for domestic violence.
"It's a purpose built building and has separate suites of rooms and offices for parents with children [which] have independent access for waiting.
"The victim support considers Woking to be a court of excellence because of its facilities. It is a false economy to close it down."
'21st Century expectations'
In a statement, the MoJ said: "We have a responsibility to ensure that we have an effective and efficient court service to deliver justice.
"Spending money to keep underused and unsuitable courts open where there is no business need is not fair to taxpayers or to users of the court if it means they will receive an inferior service
"The number and location of courts must reflect changes in population, transport and communication links and meet the expectation of our 21st Century communities."
Outlining the closure plans in June, the government said the closures would save at least £15m a year in running costs, plus an extra £22m in maintaining the buildings.
The consultation on the proposed court closures ends on 15 September.