Live koi carp fish to be sold at auction in Guildford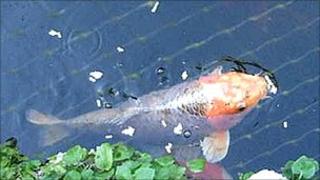 A collection of koi carp is being sold in Surrey in an unusual sale of live fish by an auctioneer of fine art and antiques.
The shoal is part of the estate of a man who lived in Virginia Water but died in April at the age of 73.
Guildford auctioneer Ewbank Clarke Gammon Wellers has kept the pond location secret to deter fish thieves.
The fish, expected to reach up to £8,000 in total, have been divided into three lots.
'Status symbol'
The late owner, who has not been identified, was born in India and had Chinese parents and was a great lover of koi. Koi carp are symbolic of strength and perseverance in Chinese culture.
His son said his father had come to the UK in the 1960s and worked his way up through a number of jobs, eventually building swimming pools and installing jacuzzis.
"Building a fish pond in his garden was second nature," he added.
He said: "He started collecting koi 30 years ago, adding to the collection over the years until there was quite a shoal of them. They are a status symbol to the Chinese."
Auctioneer Chris Ewbank said this was the first time in his experience that live fish had ever been auctioned in a sale of fine art and antiques in the UK.
Two-day sale
He added: "We anticipate a great deal of interest, particularly for the large fish. We've christened him Kevin and he's a real catch for any lover of koi."
Kevin, described as a "beauty", is thought to be about 30 years old, about 2ft (60cm) in length and is expected to reach from £1,000 to £1,500.
Two other medium-sized fish are being sold together and are expected to reach the same sale price.
Ten others are being sold as a third lot, estimated to reach between £3,000 and £5,000.
The fish are being auctioned during a two-day autumn sale at the auctioneer's Guildford base.