Campaigners against Shepperton waste site sign petition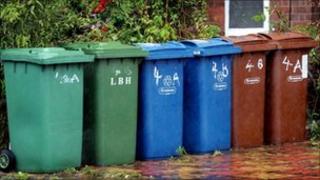 A 1,600-name petition against plans to expand facilities at a waste recycling centre in Surrey has been presented to officials at a public meeting.
Surrey Waste Management is working on behalf of Surrey County Council to develop the "eco park" at Charlton Lane, Shepperton.
The facility would feature a gasification chamber, which heats waste to produce gas for energy.
Local residents fear it will be too close to their homes, and dangerous.
Malcolm Robertson, who presented the petition, said: "The eco plant... is going to be an eco disaster.
"There's an awful lot of technology there which is not proved, and they're proposing to put it very, very close to housing."
'Environmentally-friendly'
Surrey Waste Management has said the focus of the site would be to divert as much waste as possible away from landfill and to recover energy from the leftover waste.
A gasification chamber would treat 60,000 tonnes of household waste each year, while an anaerobic digestion facility would dispose of 40,000 tonnes of food waste.
At the public meeting on Tuesday night, residents raised issues concerning air pollution, safety, the height of the chimney stack needed to dispose of the waste gases, and the cost of the site.
Officials tried to allay their concerns, and insisted the plans were environmentally-friendly.
A planning application is due to be submitted to Surrey County Council next month.