Academy plan bid 'across Surrey'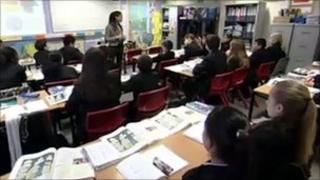 Plans for all of Surrey's secondary schools to become academies are being explored by the county council.
The move is in response to the government's Academies Act, under which "outstanding" schools are being encouraged to become academies.
Councillor Peter Martin, cabinet education spokesman, said Ofsted had already rated 11 of Surrey's 53 secondary schools as outstanding.
He said plans were at an early stage and consultation would take place.
Mr Martin said the academy scheme was "an exciting programme" that would give schools greater autonomy, and he wanted the council to look at it and find whether there was a better way for Surrey to proceed as a whole.
He said: "We are responding to the government's objective which is to create more academies and to give schools a greater autonomy."
More freedom
He added: "We are at a very early stage in deliberations. We have spoken to the Department for Education and suggested this is a possibility."
Academies are publicly-funded schools which operate outside local authority control, are funded directly by central government, and have more freedom than other state schools over their finances, the curriculum, and teachers' pay and conditions.
Under the previous Labour government, academies were seen as a way of turning around the worst-performing schools, but the coalition government is focusing first on the top end of schools.
Education Secretary Michael Gove has said academies were a way of cutting bureaucracy and giving more control to schools.
A spokesman for the Department for Education confirmed that a letter had been received on the issue from Surrey County Council.
The department had requested more detail on the council's plan, the spokesman said.