Tree felling shuts A3 at Hindhead for two weekends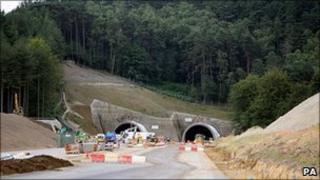 Trees and scrub alongside the A3 in Surrey are being cleared over two weekends ahead of the opening of the new Hindhead tunnel.
The trees and vegetation have grown up along the existing road at the Devil's Punchbowl over the past 50 years, reducing the area's heathland.
When the tunnel is opened in 2011, the old road will be returned to nature, with the tunnel carrying traffic.
The A3 was closed from 2200 BST on Friday for the first weekend's work.
It was due to reopen at 0500 BST on Monday and then close again for the same period from 8 to 11 October.
Protected species
The Highways Agency said that, as well as eliminating the traffic bottleneck at Hindhead, the £371m tunnel would transform the Devil's Punchbowl beauty spot.
The National Trust land is part of the Surrey Hills Area of Outstanding Natural Beauty and a Site of Scientific Interest.
Felling the trees now, outside the nesting season, avoids disturbing wild birds and other protected species and will enable restoration work to begin as soon as the tunnel opens.
During the road closures, traffic will be directed on to the A31 and the A325 between Guildford and Longmoor, with local access via the A31 and the A287.
"We have planned this work carefully to limit delays, and by carrying it out over the weekend we hope to limit disruption to road users and local people," said project manager Paul Arnold.
"The diversions are fairly lengthy however, and we would advise road users to plan their journeys and allow extra time to reach their destinations."