Alcohol campaign in 'heavy drinking' Elmbridge borough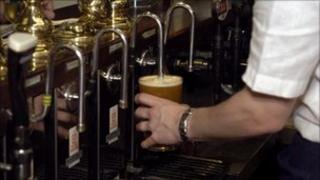 A campaign to explain the dangers of alcohol abuse is taking place in a borough listed as one of the top 10 in England for excessive drinking.
The Elmbridge Community Safety Partnership said Elmbridge was among the top 10 boroughs for "drinking at an increased risk level".
Young people are being warned of the dangers of heavy drinking during Alcohol Awareness Week this month.
Schools and youth centres are being targeted during the week-long campaign.
Information will also be displayed in pubs, on local noticeboards, and in community centres and libraries.
Elmbridge Community Safety Officer Oliver Lacey said: "Whilst Elmbridge is high for its 'increased risk' drinking, it is important to note that it is under the national average for dangerous and harmful drinking.
"That said, having a couple of glasses of wine every night can affect your health. This week aims to encourage people to monitor their drinking and take a few nights off."
Drinking at an "increased risk level" is defined as consuming between 22 and 50 units of alcohol per week for men, or roughly 10 to 20 pints of lager.
For women, the figure is about 15 to 35 units per week, which is roughly 10 to 20 small glasses of wine.
Alcohol awareness week takes place from 18 to 24 October.