St Peter's Hospital introduces afternoon visiting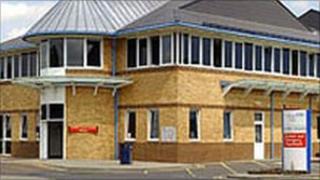 Afternoon visiting has been introduced at a Surrey hospital following a four-month trial of evening-only visiting during the week.
The aim of the pilot at St Peter's Hospital, Chertsey, was to protect mealtimes and rest periods for patients and allow more care and treatment time.
But interim chief nurse Susan Osborne said feedback had been very mixed.
The new seven-day opening hours are operating on most wards at both Ashford and St Peter's Hospitals.
Visitors are admitted between 1500 and 1630 BST and 1800 and 2000 BST.
'Long wait'
"Some patients felt the reduced visiting hours worked well, whilst others said it can feel like a long and lonely day to wait until 6pm for family and friends to come in," said Ms Osborne.
"We really think these new hours balance the needs of everyone.
"Patients will still have a protected rest period after lunch which is important to recovery, but will not have to wait so long to see family and friends."
Some areas of the hospital, including the maternity unit, children's wards, neonatal and intensive care units, will operate different visiting times.
Exceptions can also be made for people visiting very ill or dying patients.
Ms Osborne said afternoon visiting offered greater flexibility as well as helping to alleviate traffic congestion on the two hospital sites at peak times.