Cameron meets stress disorder veterans in Leatherhead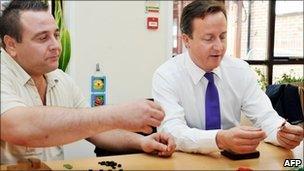 The Prime Minister has told veterans at a charity in Surrey which helps those suffering the mental scars of battle that helping them is a priority.
David Cameron met the ex-servicemen, who have post traumatic stress disorder (PTSD) and related conditions, at the Combat Stress centre in Leatherhead.
He helped some veterans make poppies for Remembrance Sunday and talked to others about their experiences.
Friday's visit came days after new services for veterans were announced.
Defence Secretary Liam Fox announced provisions including a 24-hour helpline and additional mental health nurses.
"It is a priority to do more to help the mental health issues that veterans in our country have," said Mr Cameron.
"For many people the mental scars that they have from the time they have served can be as serious or sometimes even worse than the physical scars and we need to take it much more seriously as a country."
Touring the centre, which cares for 30 patients at a time, Mr Cameron spoke to people suffering flashbacks and depression resulting from service in places including Afghanistan and Northern Ireland.
Combat Stress helps about 4,400 ex-servicemen and women at three treatment centres in the UK, including Tyrwhitt House.
The Prime Minister spoke to Roger Jones, a 60-year-old former submariner from Weymouth, Dorset, who still suffers panic attacks from his time in a Cold War nuclear submarine.
"Without this place I would have cracked up, I would have ended up in a mental institute," he said.
Mr Cameron also met Russ Roberts, 49, who uses painting to help come to terms with his experiences in Northern Ireland.
"Art gives you a release," he said.
Related Internet Links
The BBC is not responsible for the content of external sites.