More tests on contaminated soil at Farnham gasworks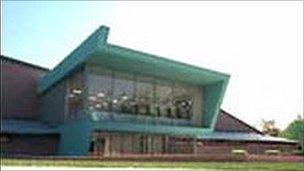 A second round of tests is to be carried out on contaminated soil at the site of a former gasworks in Surrey.
Waverley Borough Council said it hoped to begin work next month at the site in Farnham where deposits of tarry sludge, wood, slate and rope have been found.
Soil surveys carried out last December and in February and March 2010 found there were no immediate health risks.
However, the Environment Agency has decided further investigations are needed, which it will fund.
The deposits were found underground during development work last year at Farnham Sports Centre.
The new sampling work will start next month at Weybank Close, Riverside Industrial Estate and the former gasholder station.
Pits will be dug by hand in residents' gardens, with vacuum extraction taking place in commercial areas.
Work will be suspended over Christmas and will be completed between January and March 2011.
"The level of contaminants across the site varies but what we found in the initial survey was consistent with what you would expect at a former gasworks site," said Councillor Bryn Morgan.
"These latest tests will be done in specific areas as we need further information to be able to assess the levels of contaminants in more detail.
"We can then judge what, if any risk, they may pose. These latest tests are a precautionary measure."
Residents and businesses affected have been informed and a drop-in information session was held on Monday.
"Throughout this process... the health and well-being of the communities around the site has been our main concern," said Mr Morgan.
"There remains no known immediate risk to health and, as we have done in the past, as soon as we are able to share the findings from the latest tests, we will do so.
"Waverley will also take any action required from the findings of the latest samples."
Related Internet Links
The BBC is not responsible for the content of external sites.