Spending Review: Pirbright research lab escapes cuts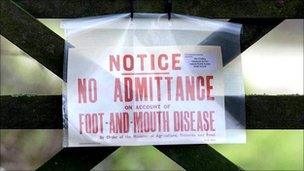 Funding for a Surrey research institute to complete the redevelopment of its laboratories has been confirmed in the government's Spending Review.
The Institute for Animal Health (IAH) at Pirbright was given a £100m funding package by the government in July 2009.
Chancellor George Osborne said the institute would receive the final £37m tranche of the funding package.
The laboratory was at the centre of the foot-and-mouth disease outbreak in Surrey three years ago.
The virus is alleged to have leaked out of drains at the Pirbright site and infected premises in the nearby area.
Mr Osborne has unveiled a package of spending cuts in the Commons aimed at tackling the country's deficit.
He also unveiled investments in infrastructure projects he said would underpin economic growth.
A spokesman for the Biotechnology and Biological Sciences Research Council, said: "We are very pleased with the chancellor's announcement of capital funding.
"The institute provides facilities for scientists at the forefront of protecting UK agriculture and human health from exotic animal diseases."
Elsewhere in the Spending Review, Mr Osborne pledged to complete a road improvement project at Hindhead in Surrey.
A tunnel carrying A3 traffic is due to open in August 2011.
Related Internet Links
The BBC is not responsible for the content of external sites.