Mongolia delegation tours Surrey's 2012 Olympic venues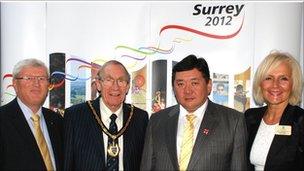 A delegation from Mongolia has toured sports facilities in Surrey as it considers where to base its nation's team during the 2012 London Olympics.
Deputy Prime Minister Miyegombo Enkhbold and other officials visited the National Shooting Centre at Bisley and Surrey Sports Park in Guildford.
They were also taken to Guildford Spectrum leisure complex on Wednesday by members of Surrey County Council.
Antigua and Barbuda has already agreed to train in Surrey in 2012.
Former West Indian cricketer Sir Vivian Richards was part of the Antigua and Barbuda Olympic delegation which attended a ceremony to sign the agreement at Surrey Sports Park on Friday.
The Mongolian Olympic team will be made up of 60 people, including 28 athletes who will compete in sports such as judo, wrestling, boxing and shooting.
The council said it was in advanced talks with more than five nations to attract teams to the county.
It said the £25,000 each Olympic and Paralympic team had to spend on training for London 2012, which would benefit Surrey's local economy.
"We were delighted to welcome our friends from Mongolia," said Councillor Denise Saliagopoulos.
"During these difficult economic times the county council must do its bit to help local businesses and London 2012 offers us a golden opportunity to do this.
"We've been nurturing relationships with foreign nations to encourage them to base their Olympic teams in Surrey during the Games.
"However, we want these relationships to have a lasting legacy long after the last medal has been won.
"The work the county council is doing now will enhance business links between Surrey companies and foreign firms in years to come.
"We also want to enhance cultural links, particularly among our schools, so our children can learn more about the world around them."
Related Internet Links
The BBC is not responsible for the content of external sites.