Politician warms to eco park plan in Shepperton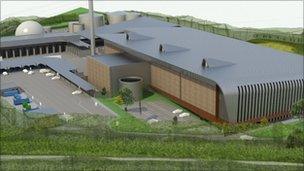 A senior councillor has said she is "reasonably convinced" controversial plans to extend a waste recycling facility in Shepperton should go ahead.
Spelthorne Borough councillor Phillipa Broom said independent experts had allayed some fears about the impact on traffic and pollution.
Surrey Waste Management is working on behalf of Surrey County Council (SCC) to develop the centre at Charlton Lane.
About 300 people gathered at the John Crook Theatre to discuss the proposals.
The facility would feature a gasification chamber, which heats waste to produce gas for energy.
Ms Broom is the chair of the overview and scrutiny committee at the borough council, which organised the meeting.
"People living in the area at the moment are fed up with the lorries," she said.
"According to SCC, they are actually going to drastically reduce the number of lorry movements
"The waste is going to be coming in to the eco park, but because it's going to be broken down they are not going to be needing the lorries that come out and bring the waste back out."
She said residents were also concerned about the impact of emissions on air quality.
"We have got to make sure that those emissions are closely monitored and checked on a regular basis," she added.
Related Internet Links
The BBC is not responsible for the content of external sites.