Spending Review: Jobs go at Dennis fire engine factory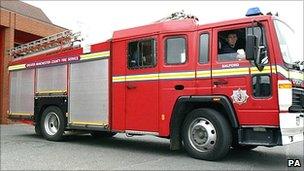 Job losses at the UK's biggest fire engine manufacturer have been blamed on cuts in public sector budgets.
Surrey-based John Dennis Coachbuilders (JDC), said it was to make about 45 shop floor workers and office staff redundant at the end of November.
The Guildford company said it had been forced to scale back from making 150 fire engines a year to 100.
It said many local authorities had put new orders for fire engines on hold during uncertainty about spending cuts.
Wednesday's Spending Review by the government made clear that local authority budgets would have to be reduced by 25% over the next for years.
Alan McClafferty, managing director of JDC, said it was almost certain the budget for new fire engines would be affected.
"Making redundancies is not a decision we have taken lightly and we have held off from taking this action for as long as possible," he said.
"Over the last few months we have cut overtime and recruitment and looked into opportunities to diversify our product range.
"However, the reality is that our customer base is local authorities and the doubt over how much their budget may be cut has severely impacted JDC's business.
"It is not that we are losing lots of orders to our competitors, it is that new fire engines are not being ordered."
He said the redundancies would reduce the company's staff numbers by one third.
"We will support those affected as much as possible to help them to find new employment," he added.
"We will be offering training on CV writing and interview techniques as well as giving advice on pension, finance and career."
Related Internet Links
The BBC is not responsible for the content of external sites.